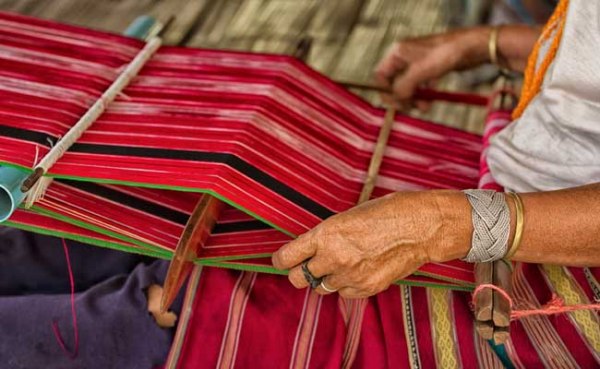 Why I would prefer handloom over machine made.
The major question arises as what to be chosen, when looking for something special. the dilemma is between the Global branded standard clothing or the Indian authentic handloom attires.
Even though hand-crafted garments faces a huge amount of competition from the machine made products, the customers still know what differentiates them. The uniqueness and authenticity of handloom can not be beaten by any machine stitched garment.
The world's trend of replicas could be opted for a daily wear usage but when it comes to something extra, we go for the ethnics, and now after the regained popularity of handloom has provided us a huge variety for all purposes.
The karigars(artisans) and manufacturers of India has to be applauded for their innovations and creativity to beat the competition. Renowned international buying companies are coming to India to buy, learn the skill and opt it into their processes. The famous premium clothing brand Sabyasachi, believes in maintaining the quality and authenticity and thus their every product is prepared by many designers and workers working it manually, they believe it increases the value of fabric to another extent as every bead is created under strict human attention.
Perhaps the main difference between designer and replica products.
Top handloom textiles/ fabrics famous in India and world are :
* Banarasi Khaddi, From Banaras.
* Georgette, from Gujarat and Jaipur.
* Chiffon, from Jaipur, Rajasthan
* Chikankari work, from Uttar Pradesh (Lucknowi Chikankari).
* Linen, from West Bengal.
* Chanderi, from Madhya Pradesh.
* Bagru Cotton, from Bagru, Rajasthan
But the main obstacle is the meeting point of the handicraft buyers and sellers. The fans of handloom are worldwide but there is still need for platforms for its proper exchange. Jhakhas.com is an e-commerce platform that provides you authentic designer handloom traditionals at your doorstep. It is India's one of the most promising and trustful companies when it comes providing quality and authentic products. You can find a great collection of traditionals, viz sarees, salwar suit, designer lehengas coming directly from the artisans of different states of India.
We also provide you specially customized and designer products as per your requirement and style. Designer lehengas and sarees inspired by top designers of bollywood and Indian Fashion industry like sabyasachi, Manish Malhotra, Ritu Kumar, Tarun Tahiliani, etc. are also made for special orders.
Indian authentic handloom textiles like pure chiffon, banarasi khaddi, chikankari work, georgette, linen, chanderi, rajputana gota patti, block prints, cotton are some of the most famous fabrics in our collection
JHAKHAS is the premium online store that specializes in offering beautiful designer women's clothing handloom and designer hand embroidery sarees online, which are made entirely by hand.  We ship Beautiful designer sarees in India and to http://www.jhakhas.com/saree countries like USA, London, Muscat, Singapore, Dubai and Abu Dhabi, check here to know more!
You can also connect with our designers for customized orders on whatsapp for personalized assistance while shopping online, reach us on +91-9424505534.
Happy Shopping!